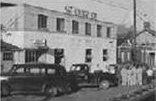 SORG Heating & Cooling, LLC was established as Sorg Sheet Metal Company in 1939, in Frankfort, Kentucky. It was founded and operated by Raymond Sorg, at the age of 32.
In 1947, manufacturing representatives of the new device, referred to as "air conditioning", began trying to determine who would best handle the new product. Because the SORG family was known for their ability to custom craft the sheet metal that would later become ductwork for furnaces, manufacturers began aligning themselves with locally respected SORG Sheet Metal Company.
Frankfort's first residential air conditioning system was installed in Raymond Sorg's home in 1949, which is now owned by Brandon Sorg's mother, Laurie Sorg, and then shortly thereafter in Fred Sorg's home, which is now occupied by Fred's granddaughter and her family.
Frankfort's first commercial air conditioning system was installed in the Commonwealth of Kentucky offices, of the very prominent highway commissioner Henry Ward.
Frankfort's first fully air conditioned office building was the Morris Arcade Building on West Main Street, which is now a parking lot adjacent to the offices of architect Gary Scott, near the current State National Bank main building, and the system  was provided in 1949 by SORG.
The first heat pump systems in Frankfort were installed by SORG in the early 1950's through the '60's. One of those early systems continued to function through the late 1990's at the current city hall building, housing the Frankfort Electric and Water Plant Board offices on Second Street.
Central Kentucky's very first high efficiency gas furnaces, exceeding 90% operating efficiency, were installed in the 1980's by SORG.
Raymond's son, Dean, became sole owner and president when he bought the remaining shares of the company stock from his brother, David, uncle, Fred, and father, Raymond, in 1988.
Raymond Sorg retired in 1988, leaving Dean to fully run the company after he purchased all of the company's shares for  ownership from Raymond Sorg and Fred Sorg. Fred Sorg remained working with the company until his retirement in 1992.
SORG COOLING – HEATING was the officially registered name of the firm at the Secretary of State's offices in April of 2000.
Due to Dean's retirement in 2008, SORG COOLING – HEATING closed operations.
January 1, 2009, SORG Heating & Cooling, LLC was established in order to continue providing the quality service in the heating and cooling industry to the city's residents. Dean's son, Brandon Sorg, continues the tradition as a 3rd generation owner.
SORG's service and installation technicians have over 100 years of combined experience working for the company. The staff knows the high standards Raymond and Dean Sorg enforced, and SORG remains committed to providing quality services and installation under new ownership.
SORG continues to offer high-quality heating and air conditioning services, installations options, and accessories with an emphasis on indoor air quality.
---
Our Qualifications
We are heating and cooling professionals!
License Number: HM05024 Bonded & Insured
We maintain a high level of quality among our staff. All of our installers and technicians are trained on a regular, on-going basis. We, and they, are certified by the following industry organizations:

NATE
North American Technician Excellence (NATE) is an independent, third-party organization that develops and promotes excellence in the installation and service of heating, ventilation, air conditioning, and refrigeration equipment by recognizing high-quality industry technicians through voluntary testing and certification. Our technicians have passed the rigorous testing necessary to qualify as NATE Certified Technicians.

ACCA
The Air Conditioning Contractor's Association of America is the heating and cooling industry's leading trade organization. ACCA members adhere to a standard of ethical best practices that is your assurance of quality and professionalism. SORG Heating & Cooling, LLC is an active member in good standing with ACCA.
BBB
The Better Business Bureau (BBB) system in the U.S. extends across the nation; coast-to-coast, and in Hawaii, Alaska, and Puerto Rico. Since the founding of the first BBB in 1912, the BBB system has proven that the majority of marketplace problems can be solved fairly through the use of voluntary self-regulation and consumer education.